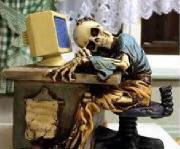 ---
Dr. Brian Smuk
Chiropractic, Applied Kinesiology, Nutrition Response Testing
Dr. Smuk has a Chiropractic degree from New York Chiropractic College, an Applied Kinesiology certification from the International College of Applied Kinesiology and a Bachelor's degree in Physical Education from Brock University.
After spending more than 20 years in public relations, health and education, Anne began a new journey in alternative and complementary health therapies. She obtained her foot reflexology and reiki certification in 2001 and joined the newly opened Spine, Body & Sole Health Centre. For the past 17 years Anne has been able to combine these two therapies with managing and promoting wellness in the clinic.
Anne's focus is stress relief using natural therapies and educating clients of the many options available to them.
After 10 years of actively practicing reflexology, teacher training seemed to be a natural progression. In 2010, Anne obtained her teacher certification from the Ontario College of reflexology and now teaches small group classes at the clinic.